Written by Sean Sosik-Hamor
Wednesday, 15 February 2012
Trunkmonkey Racing is in the process of rebooting their Web presence and is in the process of merging TrunkmonkeyRacing.com and Trunkmonkey.com into a single site. We're also bringing up a Facebook presence and awaiting page verification. Stay tuned for details!
Written by Sean Sosik-Hamor
Friday, 04 August 2006
Trunkmonkey Racing has started the preliminary phase of their move to picturesque Pelham, NH. The two garage bays in their new 1,200 square foot detached facility have been pressure washed and acid etched and are now ready to take an epoxy floor covering over the weekend. Demolition in the upstairs loft has also been completed in preparation for construction of office and storage space as well as a recreational area. Team vehicles and supplies will be slowly moved to the new location over the next few weeks.
Written by Sean Sosik-Hamor
Wednesday, 26 July 2006
FOR IMMEDIATE RELEASE, HAVERHILL, MA (07/26/2006) -- New England-based motorsports team Trunkmonkey Racing successfully completed Maine Forest Rally 2006 which hosts River Valley Rally and Bethel Rally of the Rally America Eastern Regional Championship. Competing in Production GT class, driver Sean Sosik-Hamor and co-driver Andrew Hobgood piloted the 762 PGT Trunkmonkey Pink Impreza to take 3rd in class at River Valley Rally and 2nd in class at Bethel Rally over the two days of competition and 78 miles of Special Stages.
Read more...
Written by Sean Sosik-Hamor
Tuesday, 11 July 2006
Trunkmonkey Racing has been hard at work preparing the Trunkmonkey Pink Impreza for Maine Forest Rally 2006, Round 5 of the Rally America National Championship. The team will again be competing at the Regional level in Production GT and has made many improvements to the car and service vehicles to make life easier for the Driver, Co-driver, and Service Crew.
Read more...
Written by Sean Sosik-Hamor
Friday, 19 May 2006
Trunkmonkey Racing will be attending Wicked Big Meet 2006 on Saturday, May 20th to represent the team and Pepper Computer's Pepper Pad. Our Webcam will be up and running all day assuming we have EVDO coverage!
Trunkmonkey Racing Camera 1
We are also organizing the First Annual Wicked Big Meet Fun Rally Presented by Trunkmonkey Racing on Sunday, May 21st! Come on out and join the fun! Pre-registration is closed but you can register at Wicked Big Meet on Saturday or the morning of the Rally on Sunday.
Written by Sean Sosik-Hamor
Tuesday, 28 March 2006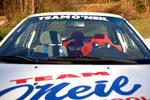 Team O'Neil Rally School has released a new promotional video giving a quick overview of their outstanding facility and rally school programs. If you haven't yet checked them out I highly recommend you do so — I've attended multiple Team O'Neil rally and safety programs over the past few years and it's drastically improved both my performance driving skills and overall driving ability!
I can recall of two or three incidents at Maine Forest Rally 2005 that, without Team O'Neil's excellent training, I literally would have found myself off in the weeds.
Written by Sean Sosik-Hamor
Tuesday, 24 January 2006
Trunkmonkey Racing will be competing at Engraving Awards and Gifts Rallycross in Stafford Springs, CT on Saturday, January 28. Be sure to keep an eye out for the Trunkmonkey Pink Impreza! Hopefully we'll have better luck with our axles than last time.
Written by Sean Sosik-Hamor
Monday, 02 January 2006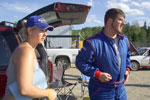 FOR IMMEDIATE RELEASE, NASHUA, NH (01/02/2006): Trunkmonkey Racing co-driver Andrew "Kha0S/kz" Hobgood reportedly popped the question on New Year's Day to Sabrina "sabominator" Vollers, the team's crew chief. In typical fashion, he first presented her with a tool bag full of Christmas gifts including 1/4" and 3/8" drive socket sets, extensions, and combo ratcheting/open-ended wrenches in the most frequently needed metric sizes for her 1993 Nissan Sentra. Said Sabrina, "I had no idea I was getting anything other than the tools! I guess this means they're his now too!"
Read more...