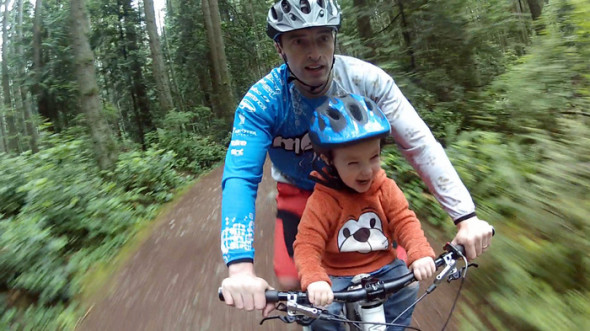 Trunkmonkey Racing backs Mac Ride! This is insanely cool. What happens when you cross a kid named Mac and a Mountain Bike? You get Mac Ride, a Kickstarter out of Vancouver, eh! From their Web site:
It was my wish for our children to benefit from these same outdoor adventures as well as my passion for engineering and mountain biking that led to Mac Ride.

Riding is not the safest activity on planet earth. But when set against the chaos of traffic and the bubblewrap boredom of an overprotected childhood, I think Mac Ride strikes a balance. I worry about the wimpification of today's children. I think kids should be exposed to the power of their bodies and the risks of the outdoors. Then they can learn about good choices, while building confidence and resilience.
If my nephews were still toddler-sized I'd be all over this thing!