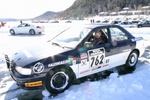 Kelly and I are taking a mini-vacation this week and will be flying down to Sunny Florida for a few days to visit Dad and Gram. It figures…we'll be leaving on an unusually warm day. It was 50 today, so who knows how warm it will be tomorrow when we leave.
Once we get to Florida, we'll be doing the tourist thing, playing with my Dad's Segway, seeing the sights, then driving home in a free Subaru Legacy that fell out of the sky. Well, not really. Gram sidegraded to a Ford Escort, so I get the Legacy to replace the rally car as my daily driver. On the way home, we'll be stopping off at Picky Hedgies so Kelly can look at hedgehogs.
So, once we get home, the rally car goes up on jackstands for major surgery. Fun stuff.