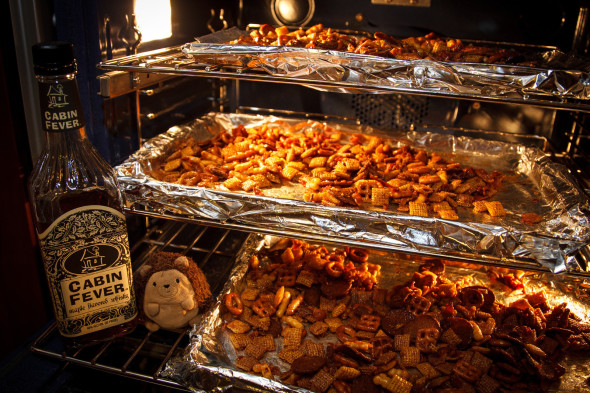 What's the best way to wind down after a hard day of trail building and mountain biking? Alcohol and bacon of course! And how do we combine the two into a single snack for uncomplicated gluttonous consumption? With Chippoke's Cabin Fever Maple Whisky Bacon Grease Infused Bacon Crumble Brown Sugar Caramelized Ghost Chile Chex Mix! Just the name alone instills fear in the hearts of cardiologists everywhere! Don't even bother trying to calculate calories or serving sizes. It'll just depress you.
Ingredients
Right, let's do this!
Cook bacon to an almost burned crispy hard consistency. Think potato chips.

Crumble bacon into 1/4″ to 1″ long chunks and set aside on paper towels.

Pour bacon grease into a Pyrex measuring cup.
Preheat oven to 300°F.
Line three large baking trays with aluminum foil and spray with cooking spray.
In one or two large bowls mix Chex Mix with pecan halves and crumbled bacon.
In a two-quart saucepan heat brown sugar, bacon grease, and light corn syrup over medium heat. Stir occasionally until bubbly around the edges.
Cook five minutes, stirring occasionally, and remove from heat.
Stir in whisky and ghost chile powder.

Pour slowly over Chex Mix and toss or lightly fold with a spatula until evenly coated.
It's go time!
Spread snack mixture evenly over pans.
Bake 15ish minutes at 300°F stirring every five minutes.
Crank oven up to broil, swap pans from rack to rack, and cook each pan directly under the heating element for an extra twoish minutes until crispy and caramelized. Final consistency will be like peanut brittle.
Cool completely, break into pieces, and serve in large bowl.
Seal extras or leftovers in Tupperware to keep fresh and crispy. Absorbs moisture quickly, especially during outdoor parties.